About Singularity
An elite Special Forces recon squad is sent to investigate an extreme radiation signature originating from the obscure island of Katorga-12. Nate Renko, a member of the recon squad, is confronted by horrible mutations on the island that are apparently the aftermath of the Singularity, a Russian experiment gone terribly wrong in 1950. Renko learns that the Soviet Union's discovery and research of a rare and dangerous element known as E-99 led to the time stream being altered and now finds himself in a reality where Russia is in control of the entire world. With the help of Kathryn, a member of a secret organization known only as MIR-12, and Dr. Barisov, a brilliant scientist trying to undo the past, Renko must unravel the events leading to this new world order. While searching for these answers Renko finds the TMD designed and constructed by Dr. Barisov, and learns he can manipulate time itself... (Read more)
Helping out
MIR-12 could use your help, solider. Renko will need all the help he can get if he wants to stop the
Singularity
.
Improving Content
Some pages in the MIR-12 journal are incomplete. Go here to see what pages need finishing.
Adding New articles
The MIR-12 journal is currently missing some pages. To write a new article in Katrina's mysterious book, just enter the title in the box below and click the button. From there, it is up to you. Fight the Past, Save the Future, Stop the Singularity.
Not sure where to start?
If you are new to wikis, see
Help:Getting Started
.
Featured image
Edit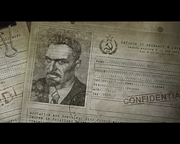 Create blog post
News
Haven't purchased your copy of Singularity yet? Singularity is featured as Amazon.com's Video Games Deal of the Day. It is available for only $39.99. For more information: check out here!

Read more >

If you want to create a version of this wiki in another language, you can easily do it by clicking the "Create a new wiki" button at the top of each page, typing "singularity" as the wiki's address a…

Read more >

The game Singularity is now out. Please help us in contributing to our Walkthrough, among other things needed on here. Also - enjoy the game!

Read more >
See more >